HOME / PRODUCTS / uPVC Pressure Pipe
uPVC Pressure Pipe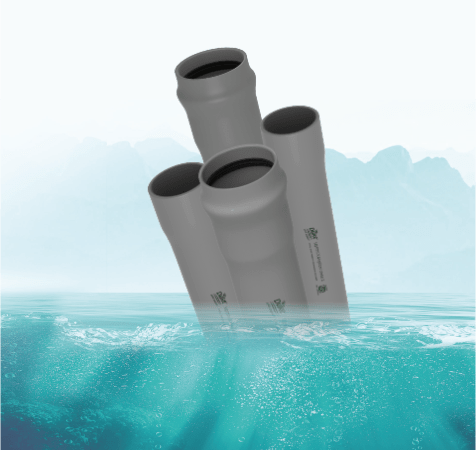 DukePipes uPVC Pressure Pipe Manufacturers Company in India
DukePipes is Leading Certified No1 uPVC Pressure Pipes manufacturers company in India. DukePipes are manufacturing of uPVC Pressure Pipe with an assurance of quality test.
The uPVC Pressure Pipes manufactured by DukePipes Company can be used for both agriculture and commercial purposes. They can be used in Water supply for agriculture, irrigation systems, Rural or Urban water supplies, Gas or Oil Supplies.
Duke UPVC pressure pipes are chemical resistance, corrosion resistance, abrasion resistance, and high hardness.
Uses of uPVC Pressure Pipes
Water supply for agriculture and irrigation systems.

Power & Telecommunication cable ducting.

Rural & Urban water supplies, Gas and Oil Supplies.

Building water supply application.

Potable water distribution and industrial applications.
uPVC Pressure Pipes Advantages & Benefits?
Smooth internal surface preventing build up of deposits

Good chemical resistance

Good corrosion resistance

Good abrasion resistance

Very high rigidity

Self-extinguishing with a high ignition temperature

Immunity to biological attack

Hazen Williams coefficient: C=150

Easily joined with solvent cement sockets — no specialized equipment necessary

A wide range of fittings and accessories available
uPVC Pressure Pipe Specification
Material: PVC

Specific gravity: 1.40 - 1.46

Specific heat: 80'c & More

Color: Grey

Length: Standard 6 meter Lengths

Fittings: Solvent cement according to As per IS (4985:2000)
Is:4985-2000(All Dimensions in mm)
Pipe
Size
Nominal
Outside
diameter
Mean
Outside
diameter
Outside
diameter
at Any Point
Class-1
0.25 Mpa
(2.5Kg/cm²)
Class-2
0.40 Mpa
(4Kg/cm²)
Class-3
0.60 Mpa
(6Kg/cm²)
Class-4
0.80 Mpa
(8Kg/cm²)
Class-5
1.00 Mpa
(10Kg/cm²)
Class-6
1.25 Mpa
(12.5Kg/cm²)
inch
(nominal Size)
min
max
min
max
min
max
min
max
min
max
min
max
min
max
min
max
0.5"
20
20.0"
20.3"
19.5"
20.3"
1.1
1.5
1.4
1.8
0.75"
25
25.0
25.3
24.5
25.5
1.2
1.6
1.4
1.8
1.7
2.1
1.0"
32
32.0
32.3
31.5
32.5
1.5
1.9
1.8
2.2
2.2
2.7
1.25"
40
40.0
40.3
39.5
40.5
1.4
1.8
1.8
2.2
2.2
2.7
2.8
3.3
1.5"
50
50.0
50.3
49.4
50.6
1.7
2.1
2.3
2.8
2.8
3.3
3.4
4.0
2.0"
63
63.0
63.3
62.2
63.8
1.5
1.9
2.2
2.7
2.8
3.3
3.5
4.1
4.3
5.0
2.5"
75
75.0
75.3
74.1
75.9
1.8
2.2
2.6
3.1
3.4
4.0
4.2
4.9
5.1
5.9
3.0"
90
90.0
90.3
88.9
91.1
1.3
1.7
2.1
2.6
3.1
3.7
4.0
4.6
5.0
5.7
6.1
7.1
4.0"
110
110.0
110.4
108.6
111.4
1.6
2.0
2.5
3.0
3.7
4.3
4.9
5.6
6.1
7.1
7.5
8.7
4.5"
125
125.0
125.4
123.5
126.5
1.8
2.2
2.9
3.4
4.3
5.0
5.6
6.4
6.9
8.0
8.5
9.8
5.0"
140
140.0
140.5
138.3
141.7
2.0
2.4
3.2
3.8
4.8
5.5
6.3
7.3
7.7
8.9
9.5
11.0
6.0"
160
160.0
160.5
158.0
162.0
2.3
2.8
3.7
4.3
5.4
6.2
7.2
8.3
8.8
10.2
10.9
12.6
7.0"
180
180.0
180.6
177.8
182.2
2.6
3.1
4.2
4.9
6.1
7.1
8.0
9.2
9.9
11.4
12.2
14.1
8.0"
200
200.0
200.6
197.6
202.4
2.9
3.4
4.6
5.3
6.8
7.9
8.9
10.3
11.0
12.7
13.6
15.7
9.0"
225
225.0
225.7
222.3
227.7
3.3
3.9
5.2
6.0
7.6
8.8
10.0
11.5
12.4
14.3
15.3
17.6
10.0"
250
250.0
250.8
247.0
253.0
3.6
4.2
5.7
6.5
8.5
9.8
11.2
12.9
13.8
15.9
17.0
19.6
11.0"
280
280.0
280.9
276.6
283.4
4.1
4.8
6.4
7.4
9.5
11.0
12.5
14.4
15.4
17.8
19.0
21.9
12.0"
315
315.0
316.0
311.0
318.8
4.6
5.3
7.2
8.3
10.7
12.4
14.0
16.1
17.3
19.9
21.4
24.7
14.0"
355
355.0
356.1
350.7
359.3
5.1
5.9
8.1
9.4
12.0
13.8
15.8
18.2
19.6
22.6
24.1
27.8
16.0"
400
400.0
401.2
395.2
404.8
5.8
6.7
9.1
10.5
13.5
15.6
17.8
20.5
22.0
25.3
27.2
31.3