HOME / PRODUCTS / uPVC Column Pipe
uPVC Column Pipe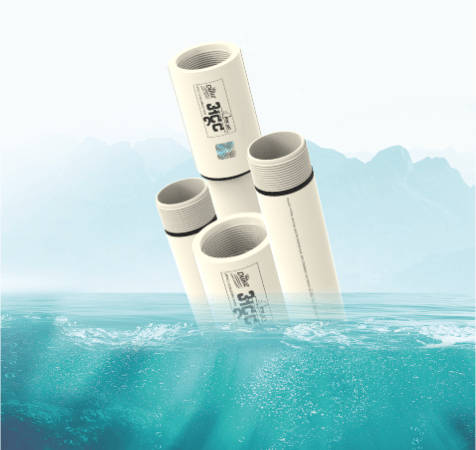 DukePipes uPVC Column Pipes Manufacturers Company in India
DukePipes is No1 uPVC Column Pipes manufacturers company in India. DukePipes are manufacturing of uPVC Column Pipes with an assurance of quality test.
The uPVC Column Pipes manufactured by DukePipes companies can be used for both residential and commercial purposes. They can be used in Irrigation,Agricultural, drinking water,etc.
Uses of uPVC Column Pipes
Irrigation and Agricultural use.

Commercial & residential application for drinking water transportation.

Conveying abrasive slurries.

Supply of Ground water for Land engineering projects.

Drain Out Industrial wastes and sewages.

Transports alkali, acids which may be corrosive in nature.

Venting system.

Used in bore well systems to provide support to the pump and help in extraction of water.
Why Choose Duke for uPVC Column Pipe?
The pipe which conveys the drainage water in a mine shaft from the bottom pump to the surface.

Duke is the pioneer of uPVC column pipe manufacturing and is one of the major piping solution providers across the country. Duke is uniquely designed and manufactured on the latest technology. Duke uses the best quality material threaded & thread sealed and these uPVC column pipes meet the heavy handling and are also the best cost-effective option.

Duke uPVC Column pipes are incredibly strong and stiff in nature. As the name suggests no plasticizes are added and that makes Duke Pipes tough, highly durable, and has good tensile strength.

Duke uPVC column pipes are best for submersible pumps and have high tensile load capacity which makes them perfect for underground operations. These pipes offer many advantages like leak-proof joints, light in weight with cost-effectiveness.
Features
Less in Weight.



No Rusting or Corrosion.



2 Special Rubber seal with threads
(Step & Selling ring).

Thick & Thin construction.



Smooth internal surface.

Long Life.



Strong Square Thread.

Pure Resin & Innovative.

Highlights.
Advantage
Easy to Transportation and handle as well as easy to installation or fitment.

Use on Longer Period No deteriorate or rust.

Prevent Leakage at high pressure helps in motor shock absorption (turbulence free).

Pipe strength remain same on both socket and barrel part.

There is no head loss.

Do Not React with Acidic or alkaline water.

Very High Load Holding Capacity.

No Scaling & Pitting.

Multi Product Manufacture organization,Successful installation across the world ,India's Greatest Brand in Pumps & Pipes,Successfully used up to 1500 ft,Virgin Resin Used.
Benefits
While When Pumps Not Work,Easy to Pulled Out or Removal.

Water flow Remains same as longer we use.threads do no corrode.

ensures 100% leak proof joints.it can with hold higher press uses too.

at the same time provides much higher strength to the pipes.

friction is low & water discharge is high, so that we save electricity bills.

Long life inside the bore well.

Ensure Proper Gripping and No Chance of Slipping.

Water Flow & Discharge Remains Same as Longer much we use.

Satisfaction & Trust Since Last 30 Years.
Wall Thickness of Column Pipes
Nominal Diameter
O. D. Nom
Couple
r OD
Wall Thickness
mm
inch
Nano 9.00
Nano 12.50
Nano 15.00
ECO Medium
Medium
Standard
Standard++
Heavy
Heavy++
Super Heavy
Extra Super Heavy
25
1.00"
33.30
45.50
---
3.50
3.50
---
3.50
4.80
---
---
---
---
---
32
1.25"
42.16
56.50
---
4.20
4.20
---
4.20
5.00
---
6.40
---
6.50
---
40
1.50"
48.26
62.50
---
---
4.30
---
4.30
5.20
---
6.50
---
7.00
---
50
2.00"
60.32
78.50
---
---
---
4.80
4.80
6.00
6.40
7.30
---
8.00
9.50
53
2.25"
63.00
90.00
---
---
---
---
5.00
6.30
---
7.80
---
8.50
---
65
2.50"
75.00
94.50
---
---
5.00
---
5.30
6.60
8.00
8.70
---
9.80
12.50
80
3.00"
87.00
114.00
---
---
---
---
6.00
7.40
8.60
9.90
9.90
10.50
13.40
90
3.50"
100.00
136.0
---
---
---
---
---
---
---
---
12.80
---
---
100
4.00"
113.00
143.00
6.20
---
---
---
6.80
8.50
11.00
12.00
12.00
12.50
15.00
125
5.00"
141.00
165.00
---
---
---
---
7.70
10.20
---
15.00
15.00
16.50
---
150
6.00"
165.00
200.0
---
---
---
---
---
---
---
16.50
---
---
---
Pressure Ratings for Column Pipes (kg/cm²)
| mm | Size | Nano | Nano | ECO Medium | Medium | Standard | Standard++ | Heavy | Heavy++ | Super Heavy | Extra Super Heavy |
| --- | --- | --- | --- | --- | --- | --- | --- | --- | --- | --- | --- |
| 25 | 1.00" | 12.5 | 15 | --- | 21 | 26 | --- | --- | --- | --- | --- |
| 32 | 1.25" | 12.50 | 15 | --- | 21 | 26 | --- | 35 | --- | --- | --- |
| 40 | 1.50" | --- | 15 | --- | 21 | 26 | --- | 35 | --- | 35 | --- |
| 50 | 2.00" | --- | 13 | 10 | 15 | 20 | 21 | 27 | --- | 35 | 40 |
| 53 | 2.25" | --- | --- | --- | --- | 18 | --- | 26 | --- | 35 | --- |
| 65 | 2.50" | --- | 11 | --- | 13 | 18 | 21 | 26 | 26 | 35 | 40 |
| 80 | 3.00" | --- | --- | --- | 11 | 18 | 21 | 26 | 26 | 35 | 40 |
| 90 | 3.50" | --- | --- | --- | --- | --- | --- | --- | 32 | 35 | 40 |
| 100 | 4.00" | 9 | --- | --- | 10 | 16 | 21 | 26 | 26 | 35 | 40 |
| 125 | 5.00" | --- | --- | --- | 10 | 16 | --- | 26 | 26 | 35 | --- |
| 150 | 6.00" | --- | --- | --- | --- | --- | --- | 26 | --- | --- | --- |
Packing Details (Nos. of Pipes/Bundle)
| mm | 3 Meter | 5.8/6 Meter |
| --- | --- | --- |
| 1.00" | 25 | --- |
| 1.25" | 25 | --- |
| 1.50" | 20 | --- |
| 2.00" | 15 | 5 |
| 2.25" | 10 | 5 |
| 2.50" | 10 | 5 |
| 3.00" | 5 | 3 |
| 3.50" | 3 | --- |
| 4.00" | 5 | 3 |
| 5.00" | 3 | 2 |
| 6.00" | 2 | 2 |
Color Coding Of Packing
Class of Pipe
Printing Color
Nano 12.5
Orange
Nano 15
Purple
Eco Medium
Purple
Medium
Blue
Standard
Red
Standard++
Brown
Heavy
Green
Heavy++
Green
Super Heavy
Black
Extra Super Heavy
Black
Load & Pressure Technical Data
Type & Size OD - Outside Dia NB - Nominal Bore
Ultimate breaking load in Kg
Safe pulling load with chain pully in Kg
Safe allowable pressure in Kg/cm²
Safe total pump delivery head in(Mtr)
Safe installation depth in mtr
Safe installation depth in feet
Weight of pipe on suitable depth in kg(A)
Weight of pipe on suitable depth in kg(B)
Weight of pump on suitable depth in kg(C)
Total weight on suitable depth (A+B+C)
OD : 33mm (1") ND : 25mm
Nano 12.5
850
500
12.5
125
25
80
9
15
19.70
43.70
Nano 15
1000
580
15
150
30
99
10
19
19.70
48.70
Medium
1500
800
21
210
65
214.5
26
41
23.20
90.20
Standard
2200
1250
26
300
150
495
75
85
20.80
180.80
OD : 42mm (1.25") ND : 32mm
Nano 12.5
1600
800
12.5
125
25
80
11
23
17.80
51.80
Nano 15
1720
900
15
150
30
99
17
28
17.80
62.70
Medium
1800
1150
21
210
65
214.5
39
61
21.80
121.80
Standard
2650
1400
26
250
150
495
99
135
22.60
256.60
Heavy
3100
1800
35
280
175
574
113
135
100
348
OD : 48mm (1.5") ND : 40mm
Nano
2000
1000
15
150
30
99
19
33
24.10
76.10
Medium
2300
1200
21
210
65
214.5
41
72
24.50
137.50
Standard
3200
1500
26
260
120
396
97
127
35.90
259.90
Heavy
4200
2000
35
350
160
528
174
162
41.60
377.60
OD : 60mm (2") ND : 50mm
Eco Medium
2730
1750
13
90
30
99
21
68
51.0
140.00
Medium
3040
2000
15
130
65
214.5
54
148
60.0
262.00
Standard
4950
2500
20
170
100
330
116
216
75.0
407.00
Standard++
5098
2700
21
200
120
396
154
255
106.0
515.00
Heavy
5682
3200
27
270
180
594
273
368
126.0
767.00
Super Heavy
6200
3600
35
350
225
735
380
440
141.0
961.00
Extra Super Heavy
6200
3800
40
300
185
750
166
320
150
636.00
OD : 75mm (2.5") ND : 65mm
Medium
4496
2800
13
100
65
214.5
88
181
80.0
349.00
Standard
5934
3600
18
160
120
396
188
321
122.5
631.50
Standard++
6683
3800
21
210
150
495
276
384
149
809.5
Heavy
7432
4000
26
260
180
594
364
448
176.0
988.00
Super Heavy
9194
4250
35
350
200
660
475
475
203.0
1159.00
Extra Super Heavy
10000
4850
40
300
185
750
216
530
200
946.00
OD : 88mm (3") ND : 80mm
Medium
5934
4000
11
110
65
214.5
94
325
72.0
491.00
Standard
9112
5010
18
170
120
396
234
578
294.0
1106.00
Standard++
9556
5505
21
185
150
495
355
693
351
1398
Heavy
10000
6000
26
200
180
594
475
808
408.5
1691.50
Heavy++
10500
6200
26
260
190
627
502
853
414.0
1796.00
Super Heavy
12000
6500
35
350
225
742.5
720
993
418.0
2131.00
Extra Super Heavy
12000
6850
40
300
185
750
303
720
250
1273.00
OD : 100mm (3.5") ND : 90mm
Heavy++
13568
9350
32
260
190
627
668
980
425.0
2073.00
Super Heavy
13568
9350
40
---
---
750
---
---
---
---
OD : 113mm (4") ND : 100mm
Nano
---
4000
10
---
---
---
---
---
---
---
Medium
11402
4500
10
100
65
214.5
179
428
181.0
728.00
Standard
12150
7250
16
150
120
396
343
759
326.0
1428.00
Standard++
14065
9625
21
175
150
495
566
908
383
1855
Heavy
15980
12000
26
200
180
594
790
1057
441.5
2288.00
Heavy++
16636
12500
26
260
190
627
834
1115
452.0
2401.00
Super Heavy
17536
13100
35
350
225
742.5
1199
1306
455.0
2960.00
Extra Super Heavy
17536
13100
40
350
225
742.5
1199
1306
455.0
2960.00
OD : 140mm (5") ND : 125mm
Medium
12000
7540
10
100
65
214.5
272
526
176.0
974.00
Standard
16000
10440
16
160
120
396
558
933
377.0
1868.00
Heavy
17058
16240
26
200
180
594
1123
1282
465.0
2870.00
Heavy++
18000
17000
26
260
190
627
1185
1354
465.0
3004.00
Super Heavy
30000
18000
35
350
225
742.5
1827
1565
478.0
3870.00