HOME / PRODUCTS / uPVC Casing Pipe
uPVC Casing Pipe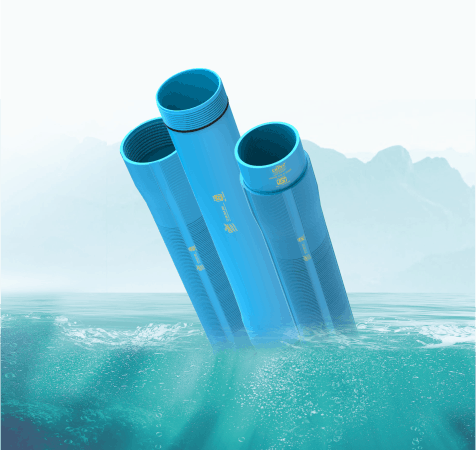 DukePipes is No1 uPVC Casing pipes manufacturers company in India.DukePipes are manufacturing of uPVC Casing pipes with an assurance of quality test.
The uPVC Casing pipes manufactured by DukePipes companies can be used for both residential and commercial purposes. They can be used in farming, Tubewell, borewell, drinking water, cover tube works etc.
Uses of uPVC casing pipes
uPVC casing pipes are mainly used to supply lines for drinking water, and cover tube works.

These pipes are also used in plumbing fittings and for ventilation in bathrooms.

uPVC casing pipes are widely used in sewerage systems because the pipes' inner walls are very smooth. These pipes don't allow any deposits inside the tube.

uPVC casing pipes are non-conductive to fire and combustion, so this makes an ideal choice for electrical installation. Duke Casing means extra safety.

These are widely used to manufacture raising mains in downpipes, Bore wells, and Tube wells.

Being non-metallic and are resistant to all types of metallic corrosion, so these pipes are the best fit for water supplies.

Regardless of the nature of the transportation of fluid, these uPVC casing pipes behave neutrally. It is because they are made of tasteless and odourless material.
Also, some of the applications where these types of uPVC casing pipes are in great demand:
Road Bore casing.

Tunnel casing.

Drilling casing.

Open Cut casing.

Culverts casing.
uPVC Casing pipes are suitable for Tube well or bore well
uPVC Casing pipes are suitable for Tube well and bore well applications which ensure a better flow of water and low frictional loss. Duke uPVC Casing pipes are an ideal choice for Borewell applications to pump out clean water from bore wells. They are made from high-quality PVC compound.
There are two materials used for casing pipes
1.Steel casing pipes
The steel casing is strong but the main problem in steel casing is that it is susceptible to corrosion. After the steel casing, people always consider uPVC casing pipes because of its resistance to corrosion and has smoother inner walls.
After the steel casing, people always consider uPVC casing pipes because of its resistance to corrosion and has smoother inner walls.
2.uPVC casing pipes
uPVC casing pipes have successfully replaced the conventional metal steel piping materials as these uPVC casing pipes are more resilient, non-corrosive, and very economical. It is made up of virgin resin, not recycled material.
UPVC casing pipes are used for coating hard surfaces to increase their durability. These products are very effective and will ensure long-lasting results. They also enable the user to completely customize the finishing of the pipe.
Special Features
Specification followed IS 12818:2010 Equivalent to DIN 4925.

Trapezoidal threaded socket and spigot ends for easy, reliable jointing, long and better strength.

Surface finish of this pipe is extremely smooth which reduces the hydraulic Friction.

Horizontal slots to get maximum water yield.

There are 7 series CD, CM , CS , RMS , RDS , PMS , PDS.
uPVC Casing pipes Advantages & Benefits
Very high collapsible resistant.

Ultimate Tensile & Impact strength

Resistance to Corrosion long life.

Maximum yield of water.

Easy Joining and Installation.

Easy to Handle.

Long Life.
Recommendation
We can use this pipe in Hard rock soil as well as gravel bore well.

A wise replacement of MS, ERW, GI, SS, Asbestos & cement pipes.

uPVC is nearly inert towards corrosion, chemical reaction and due to which, it is ideally used in Salty, Sandy and chemically aggressive water without any effect over the years.
Screen Open Area in Percent for width of slot (w)
Pipe
Designation
Nominal
Diameter
Number
of slot
N(MIN)
Σa ± 5%
Slot width in mm
0.2
0.3
0.5
0.75
1.0
1.5
2.0
3.0
mm
inch
Free passage area in Percentage
RMS
50
2
3
108
3.7
5.2
6.0
9.1
9.4
9.7
12.1
---
RMS
80
3
3
168
3.7
5.2
6.0
9.1
9.4
9.7
12.1
---
RMS
100
4
5
216
3.7
5.2
6.0
9.1
9.4
9.7
12.1
---
RMS
115
4.5
5
240
3.7
5.2
6.0
9.1
9.4
9.7
12.1
---
RMS
125
5
5
240
---
4.7
5.6
8.2
8.5
8.8
11.0
13.5
RMS
150
6
5
285
---
---
5.6
8.2
8.5
8.8
11.0
13.5
RMS
175
7
6
340
---
---
5.6
8.3
8.5
8.8
11.0
13.5
RMS/PMS
200
8
6
390
---
---
---
8.3
8.5
8.8
11.0
13.5
RMS/PMS
250
10
6
450
---
---
---
7.6
7.9
8.1
10.2
12.5
RMS/PMS
300
12
6
530
---
---
---
7.6
7.9
8.1
10.2
12.5
RMS/PMS
350
14
8
640
---
---
---
---
7.9
8.1
10.2
12.5
Width of material between Slots ± 0.5 mm
4.0
4.0
5.5
5.5
6.8
9.5
9.5
11.0
Screen Permeability for width of slot
Nominal
Diameter
Slot width in mm
0.2
0.3
0.5
0.75
1.0
1.5
2.0
3.0
mm
inch
Free passage area in Percentage
50
2.0
0.18
0.25
0.29
0.44
0.45
0.46
0.58
0.67
80
3.0
0.27
0.39
0.45
0.68
0.70
0.72
0.90
1.04
100
4.0
0.35
0.50
0.57
0.87
0.90
0.93
1.16
1.34
115
4.5
0.40
0.56
0.64
0.97
1.01
1.04
1.30
1.50
125
5.0
---
0.56
0.66
0.97
1.00
1.04
1.30
1.59
150
6.0
---
---
0.78
1.15
1.19
1.23
1.54
1.89
175
7.0
---
---
0.93
1.38
1.41
1.46
1.82
2.24
200
8.0
---
---
---
1.59
1.62
1.68
2.10
2.58
250
10.0
---
---
---
1.81
1.88
1.93
2.42
2.97
300
12.0
---
---
---
2.13
2.22
2.27
2.86
3.51
Tolerance On Width of slot (w)
Slot Width
(w)mm
0.2
0.3
0.5
0.75
1.0
1.5
2.0
3.0
Tolerance
(mm)
+0.06
+0.06
+0.10
+0.20
+0.20
+0.20
+0.20
+0.30
-0.00
-0.00
-0.00
-0.00
-0.00
-0.00
-0.00
-0.00
CS Casing Pipe
Nominal
Diameter
Mean Outer
Diameter(mm)
Wall
Thickness
Mean Outer
Dia Over
Connection(Max)
Length of
Threads
mm
inch
min
max
min
max
100
4.0"
113.0
113.3
3.90
4.60
119.0
48
125
5.0"
140.0
140.4
5.30
5.60
148.0
63
150
6.0"
165.0
165.4
5.70
6.50
174.0
63
165
6.5"
180.4
180.3
6.10
7.10
188.0
63
175
7.0"
200.0
200.5
7.00
7.80
211.0
63
200
8.0"
225.0
225.5
7.60
8.80
238.0
74
225
9.0"
250.0
250.5
8.80
9.60
262.0
74
250
10.0"
280.0
280.5
9.60
11.0
292.0
90
300
12.0"
330.0
330.6
11.20
13.30
346.0
90
350
14.0"
400.0
400.7
14.00
15.50
420.0
90
400
16.0"
450.0
450.8
16.00
17.50
470.0
102
CM Casing Pipe
Nominal
Diameter
Mean Outer
Diameter(mm)
Wall
Thickness
Mean Outer
Dia Over
Connection(Max)
Length of
Threads
mm
inch
min
max
min
max
35
1.25"
42.0
42.2
3.5
4.0
46.0
25
40
1.5"
48.0
48.2
3.5
4.0
52.0
25
50
2.0"
60.0
60.2
4.0
4.6
65.0
30
80
3.0"
88.0
88.3
4.0
4.6
94.0
40
100
4.0"
113.0
113.3
5.0
5.7
120.0
48
115
4.5"
125.0
125.3
5.0
5.7
132.0
48
125
5.0"
140.0
140.4
6.5
7.3
150.0
63
150
6.0"
165.0
165.4
7.5
8.5
178.0
63
165
6.5"
180.0
180.4
10.0
10.8
196.7
63
175
7.0"
200.0
200.5
8.8
9.8
215.0
63
200
8.0"
225
225.5
10.0
11.2
243.0
74
225
9.0"
250.0
250.5
12.0
12.5
270.0
74
250
10.0"
280.0
280.5
12.5
14.0
298.0
90
300
12.0"
330.0
330.6
14.5
16.2
352.0
90
350
14.0"
400.0
400.7
17.5
19.5
428.0
90
400
16.0"
450.0
450.8
19.5
21.7
479.0
102
CD Casing Pipe
Nominal
Diameter
Mean Outer
Diameter(mm)
Wall
Thickness
Mean Outer
Dia Over
Connection(Max)
Length of
Threads
mm
inch
min
max
min
max
100
4.0"
113.0
113.3
7.0
7.9
125.0
48
115
4.5"
125.0
125.3
7.5
8.5
137.0
48
125
5.0"
140.0
140.4
8.0
9.0
152.0
63
150
6.0"
165.0
165.4
9.5
10.7
180.0
63
175
7.0"
200.0
200.5
11.8
13.6
217.0
63
200
8.0"
225.0
225.5
13.0
14.8
247.0
74
225
9.0"
250.0
250.5
15.0
16.0
267.0
74
250
10.0"
280.0
280.5
16.0
17.6
304.0
90
300
12.0"
330.0
330.6
19.0
21.0
359.0
90
350
14.0"
400.0
400.7
21.5
23.9
433.0
90
400
16.0"
450.0
450.8
23.5
26.1
490.0
102
RIB - CS Casing Pipe
Nominal
Diameter
Mean Outer
Diameter
Wall Thickness
Mean Outer
Dia Over
Connection(Max)
Length of
Threads
mm
inch
min
max
min
max
125
5.0"
144.0
144.4
5.30
5.60
152.0
63
150
6.0"
169.0
169.4
5.70
6.50
178.0
63
175
7.0"
204.0
204.5
7.00
7.80
215.0
63
200
8.0"
229.0
229.5
7.60
8.80
242.0
74
250
10.0"
284.0
284.5
9.60
11.0
296.0
90
300
12.0"
334.0
334.6
11.20
13.30
350.0
90
RIB CM Casing Pipe (RMS)
Nominal
Diameter
Mean Outer
Diameter(mm)
Wall
Thickness
Mean Outer
Dia Over
Connection(Max)
Length of
Threads
mm
inch
min
max
min
max
35
1.25"
46.0
46.2
3.5
4.0
50.0
25
40
1.5"
52.0
52.2
3.5
4.0
56.0
25
50
2.0"
64.0
64.2
4.0
4.6
69.0
30
80
3.0"
92.0
92.3
4.0
4.6
98.0
40
100
4.0"
117.0
117.3
5.0
5.7
124.0
48
115
4.5"
129.0
129.3
5.0
5.70
136.0
48
125
5.0"
144.0
144.4
6.5
7.3
154.0
63
150
6.0"
169.0
169.4
7.5
8.5
182.0
63
175
7.0"
204.0
204.5
8.8
9.8
219.0
63
200
8.0"
229.0
229.5
10.0
11.2
247.0
74
250
10.0"
284.0
284.5
12.5
14.0
302.0
90
300
12.0"
334.0
334.6
14.5
16.2
356.0
90
350
14.0"
404.0
404.7
17.5
19.5
432.0
90
400
16.0"
454.0
454.8
19.5
21.7
483.0
102
RIB CD Casing Pipe (RDS)
Nominal
Diameter
Mean Outer
Diameter(mm)
Wall
Thickness
Mean Outer
Dia Over
Connection(Max)
Length of
Threads
mm
inch
min
max
min
max
100
4.0"
117.0
117.3
7.0
7.9
129.0
48
115
4.5"
129.0
129.3
7.5
8.5
141.0
48
125
5.0"
144.0
144.4
8.0
9.0
156.0
63
150
6.0"
169.0
169.4
9.5
10.7
184.0
63
175
7.0"
204.0
204.5
11.8
13.6
221.0
63
200
8.0"
229.0
229.5
13.0
14.8
251.0
74
250
10.0"
284.0
284.5
16.0
17.6
309.0
90
300
12.0"
334.0
334.6
19.0
21.0
363.0
90
350
14.0"
404.0
404.7
21.5
23.9
437.0
90
400
16.0"
454.0
454.8
23.5
26.1
494.0
102
Plain CM Screen casing Pipe (PMS)
Nominal
Diameter
Mean OD
Wall Thickness
Mean outer
dia over
connection
Length
of thread
mm
inch
min
max
min
max
200.0
8.0"
225.0
225.5
10.0
11.2
243.0
74
250.0
10.0"
280.0
280.5
12.5
14.0
298.0
90
300.0
12.0"
330.0
330.6
14.5
16.2
352.0
90
350.0
14.0"
400.0
400.7
17.5
19.5
428.0
90
400.0
16.0"
450.0
450.8
19.5
21.7
479.0
102
Plain CD Screen casing Pipe (PDS)
Nominal
Diameter
Mean OD
Wall Thickness
Mean outer
dia over
connection
Length
of thread
mm
inch
min
max
min
max
200.0
8.0"
225.0
225.5
13.0
14.8
247.0
74
225.0
9.0"
250.0
250.5
15.0
16.0
267.0
74
250.0
10.0"
280.0
280.5
16.0
17.6
304.0
90
300.0
12.0"
330.0
330.6
19.0
21.0
359.0
90
350.0
14.0"
400.0
400.7
21.5
23.9
433.0
90
400.0
16.0"
450.0
450.8
23.5
26.1
490.0
102