HOME / PRODUCTS / HDPE pipe
HDPE pipe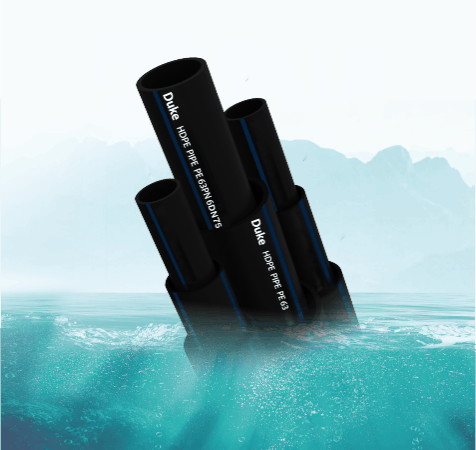 Best HDPE Pipe Manufacturers Company in India
DukePipes is Leading Certified No1 HDPE Pipes manufacturers company in India. DukePipes are manufacturing of HDPE Pipe with an assurance of quality test.
The HDPE Pipe manufactured by DukePipes Company can be used for both Agriculture and commercial purposes. HDPE Pipe can be used in Water supply for Agriculture, Irrigation, Sewage & Industrial,and Water Supply.
Uses of HDPE Pipe
Ducting

Water Supply

Drainage Pipes

Sewage & Industrial Effluent Disposal

Agriculture & Irrigation
HDPE Pipes Features
Resistance to environment attacks & cracks.

More flexible than other metal base pipe

Smooth surface so save energy in pumping system.

High chemical resistance.

Resistance to corrosion, tuberculation, deposits.
High-density polyethylene Pipe (HDPE) Features
Available Size 16mm to 200mm Outer dia ( OD)

Material Grade: - PE -63,PE-80,PE100.

Available in Multiple choice of pressure rating Starting From PN 2,2.5,3.2,4,5,6,8,10,12.5.16,20.

Color: Black

Length: Standard Length 50,100, 200, 300, 500, & 1000 meters coils.

Note: In Above - 110 mm Dia -6 meter length of HDPE Pipes Of 6 meters as per customer Requirement
HDPE Pipe Characteristics
Light In Weight.

Resistances to environmental attacks & cracks.

More flexible than other metal based pipes.

Smooth surface So save energy in Pumping system.

High Chemical Resistance.

Can challenge pipe line corrosion.
HDPE Pipe Advantages & Benefits.
Hygienically Safe ( food grade )

Has long life ( approx.100 years )

Easy to install & handle.

Least chance to conduct heat.

Black HDPE Pipe is UV Protected.

Can be easily joined by mechanical ( Compression fitting)

Safety of potable water and long-term reliability

Resistance to corrosion, tuberculation, deposits

Flexibility to speed installations

Freeze-break resistance

Lightweight, easy to transport

Low scrap value, avoiding job site theft

Durability and toughness to survive job site installations

No flame used for joining, with many fitting and joining options

Recyclable, Eco-friendly material

Heat fusible for virtually leak-free performance
Grade: (PE 63)
Size
Pn 2
Pn 2.5
Pn 3.2
Pn 4
Pn 5
Pn 6
Pn 8
SDR 41
SDR 33
SDR 26
SDR 21
SDR 17
SDR 13.6
SDR 11
DN
Min
Max
Min
Max
Min
Max
Min
Max
Min
Max
Min
Max
Min
Max
16MM
20MM
1.90
2.20
25MM
1.90
2.20
2.30
2.60
32MM
1.90
2.20
2.40
2.70
2.90
3.30
40MM
1.90
2.20
2.40
2.70
3.00
3.40
3.70
4.20
50MM
2.00
2.30
2.40
2.70
3.00
3.40
3.70
4.20
4.60
5.20
63MM
2.50
2.90
3.00
3.40
3.70
4.20
4.70
5.30
5.80
6.50
75MM
1.90
2.20
2.30
2.60
2.90
3.30
3.60
4.10
4.50
5.10
5.60
6.30
6.90
7.70
90MM
2.20
2.50
2.80
3.20
3.50
4.00
4.30
4.80
5.30
5.90
6.70
7.50
8.20
9.10
110MM
2.70
3.10
3.40
3.80
4.30
4.80
5.90
6.60
6.50
7.30
8.10
9.00
10.00
11.10
Grade: (PE 80)
Size
Pn 2.5
Pn 3.2
Pn 4
Pn 5
Pn 6
Pn 8
Pn 10
Pn 12.5
Pn 16
Pn 20
SDR 41
SDR 33
SDR 26
SDR 21
SDR 17
SDR 13.6
SDR 11
SDR 9
SDR 7.4
SDR 6
DN
Min
Max
Min
Max
Min
Max
Min
Max
Min
Max
Min
Max
Min
Max
Min
Max
Min
Max
Min
Max
16MM
1.80
2.10
2.20
2.50
2.70
3.10
20MM
1.90
2.20
2.30
2.60
2.70
3.10
3.40
3.80
25MM
1.90
2.20
2.30
2.60
2.80
3.20
3.40
3.80
4.20
4.70
32MM
1.90
2.20
2.40
2.70
2.90
3.30
3.60
4.10
4.40
4.90
5.40
6.00
40MM
1.90
2.20
2.40
2.70
3.00
3.40
3.70
4.20
4.50
5.10
5.40
6.00
6.70
7.50
50MM
2.00
2.30
2.40
2.70
3.00
3.40
3.70
4.20
4.60
5.20
5.60
6.30
6.80
7.60
8.40
9.30
63MM
2.50
2.90
3.00
3.40
3.70
4.20
4.70
5.30
5.80
6.50
7.00
7.80
8.60
9.60
10.50
11.70
75MM
1.90
2.20
2.30
2.60
2.90
3.30
3.60
4.10
4.50
5.10
5.60
6.30
6.90
7.70
8.40
9.30
10.20
11.30
12.50
13.90
90MM
2.20
2.50
2.80
3.20
3.50
4.00
4.30
4.80
5.30
5.90
6.70
7.50
8.20
9.10
10.00
11.10
12.20
13.50
15.00
16.60
110MM
2.70
3.10
3.40
3.80
4.30
4.80
5.90
6.60
6.50
7.30
8.10
9.00
10.00
11.10
12.30
13.60
14.90
16.50
18.40
20.30
Grade: (PE 100)
Size
Pn 3
Pn 4
Pn 5
Pn 6
Pn 8
Pn 10
Pn 12.5
Pn 16
Pn 20
SDR 41
SDR 33
SDR 26
SDR 21
SDR 17
SDR 13.6
SDR 11
SDR 9
SDR 7.4
DN
Min
Max
Min
Max
Min
Max
Min
Max
Min
Max
Min
Max
Min
Max
Min
Max
Min
Max
16MM
1.80
2.10
2.20
2.50
20MM
1.90
2.20
2.30
2.60
2.70
3.10
25MM
1.90
2.20
2.30
2.60
2.80
3.20
3.40
3.80
32MM
1.90
2.20
2.40
2.70
2.90
3.30
3.60
4.10
4.40
4.90
40MM
1.90
2.20
2.40
2.70
3.00
3.40
3.70
4.20
4.50
5.10
5.40
6.00
50MM
2.00
2.30
2.40
2.70
3.00
3.40
3.70
4.20
4.60
5.20
5.60
6.30
6.80
7.60
63MM
2.50
2.90
3.00
3.40
3.70
4.20
4.70
5.30
5.80
6.50
7.00
7.80
8.60
9.60
75MM
1.90
2.20
2.30
2.60
2.90
3.30
3.60
4.10
4.50
5.10
5.60
6.30
6.90
7.70
8.40
9.30
10.20
11.30
90MM
2.20
2.50
2.80
3.20
3.50
4.00
4.30
4.80
5.30
5.90
6.70
7.50
8.20
9.10
10.00
11.10
12.20
13.50
110MM
2.70
3.10
3.40
3.80
4.30
4.80
5.90
6.60
6.50
7.30
8.10
9.00
10.00
11.10
12.30
13.60
14.90
16.50
Recommendation of HDPE Pipes Depth in Borewell
| Depth in Borewell in mtrs | Pressure class | Sizes range of pipes | Grades of Materiais |
| --- | --- | --- | --- |
| Up to 40 Mtrs | 2.0,2.5,3.0,3.2 kg/cm2 | Dia. 20mm to 50mm | PE 63 |
| Up to 55 Mtrs | 4.0 kg/cm2 | Dia. 20mm to 50mm | PE 63 |
| Up to 90 Mtrs | 6.0 kg/cm2 | Dia. 63mm to 90mm | PE 80 |
| Up to 150 Mtrs | 10.0 kg/cm2 | Dia. 110mm to 315mm | PE 80 |
| Up to 180 Mtrs | 12.5 kg/cm2 | Dia. 110mm to 315mm | PE 100 |